Sarah Josey Ray WILLIAMS
born 31 Jul 1815, died 14 Mar 1850
Married Maj. John Whitsett Childress
born 1807, died 1884
This marriage produced the following children:
Mary Williams Childress

born 1 Jan 1834, died 5 Sep 1894




James Knox Polk Childress

born 1834, died 1861




Elisha Williams Childress

born 1839, died Apr 1862




Elizabeth "Betsy" Childress

born 9 Feb 1842, died 1 Mar 1919




John Whitsett Childress, Jr.

born 20 Apr 1845, died 29 Mar 1908




Joseph Childress

born 1847, died ?




Anderson Childress

born ?, died ?


Below is some history of both the Philips and Childress families. Elisha Williams Jr married Philip Philip's daughter Mary "Polly" Philips (Her brother, Judge Joseph Philips is not to be confused with Elisha's brother's father-in-law Joseph Philips' family who lived on Dickerson Road outside of Nashville).
Elisha Williams Jr and Mary Polly Philips' daughter Sarah Williams married John Whitsett Childress. After Sarah Williams died, John Whitsett Childress married Mary Elizabeth Philips, the daughter of Judge Joseph Philips and the granddaughter of Philip Philips.
Of course that makes John Whitsett's second wife Mary Elizabeth Philips the niece of Elisha Williams Jr's first wife Mary Polly Philips.
John Whitsett Childress and Mary Elizabeth Philips produced a family of 8 children.
Philip Philips built a fort at Nolin Station just south of present day Loouisville Kentucky in 1780 as described in the below two pages from The Register of the Kentucky Historical Society, Vol. 58, No. 4 (October 1960).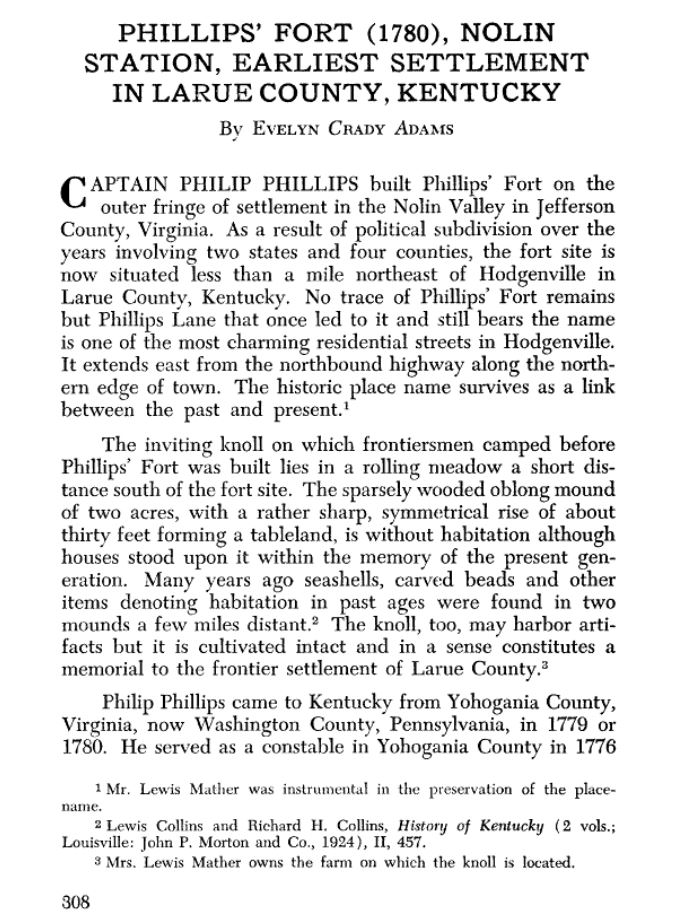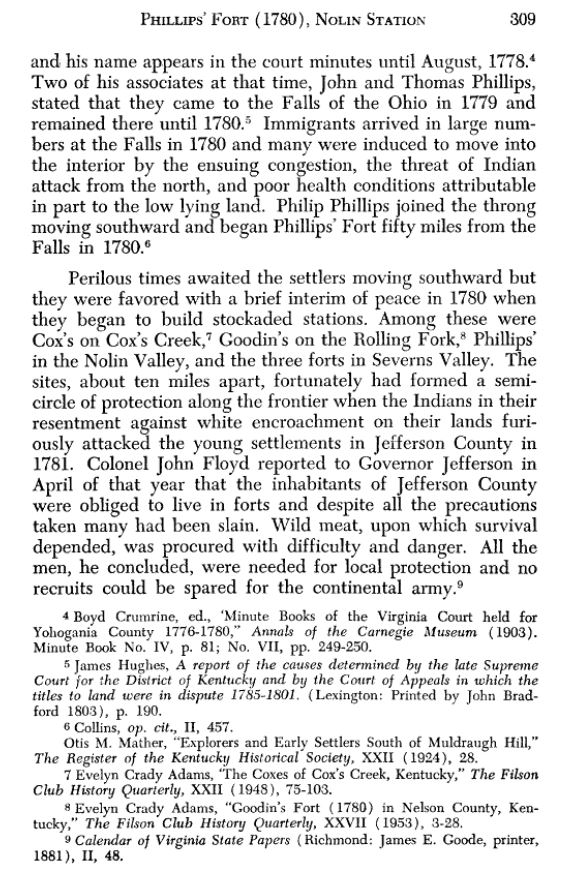 The Rutherford County Historical Society Publication Number 9 is a good history of both the Philip Philips and Joel Childress families from the early days of what is now Rutherford County TN. These two families lived in the area of Black Fox Spring as early as 1800.
Rutherford County was formed in 1803 from parts of Davidson, Williamson and Wilson Counties.
<
Below is a write-up about John W. Childress and what has come to be known as the Childress House at 225 North Academy Street in Murfreesboro TN. It was placed on the National Register of Historic Places on December 1, 1979.
A seldom mentioned fact about Eisha Williams' family is the marriage of Sarah, the sister-in-law of his son Elisha Jr's daughter (Mrs. John Whitsett Childress), to President James K. Polk in Murfreesboro TN and the marriage of his daughter Betsy's grandaughter Lucy Eugenia Williams to William Hawkins Polk, the President's brother, in Warren County NC.

President James K. Polk

and wife

Sarah Childress Polk


William Hawkins Polk

brother of the President

and husband of

Lucy Eugenia Williams
Below is the will of Sarah Childress as it appears in the Rutherford County Tennessee Court files.
Notice in the below sketch of Maj. John W. Childress that Elisha Jr's wife, Mary "Polly" Philips' brother, Judge Joseph Philips, is not to be confused with Joseph Philips who lived on Dickerson Pike in Nashville and whose two daughters married two of Elisha Williams II's brothers, Josiah Frederick and William Williams.
Photo of Elizabeth Whitswett, mother of Major John Childress and mother-in-law of Elisha Williams' daughter Sarah Williams.

From the Tenessee Portrait Project

Painted by Washington Cooper

Hung at the Polk Place dining room in Columbia TN