Rebecca Philips Williams
Born: 3 Apr 1820 in Nashville, Davidson Co., TN
Died: 27 Jul 1844 in Nashville, Davidson Co., TN
20 Dec. 1832 Nashville, Davidson Co., TN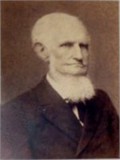 EWING, Edwin Hickman, (brother of Andrew and Orville Ewing), a Representative from Tennessee was born in Nashville, Tenn., December 2, 1809. He completed preparatory studies, and was graduated from the University of Nashville in 1827.
He became a trustee of the University in 1831, and served until his death.
He studied law; was admitted to the bar in 1831 and commenced practice in Nashville.
He was a member of the State house of representatives in 1841 and 1842. Elected as a Whig to the Twenty-ninth Congress, Ewing served from March 4, 1845 to March 3, 1847, and was not a candidate for re-nomination, and resumed practicing law in Nashville with his brother Andrew Ewing, until 1851.
His health was failing and he took a trip abroad beginning on April 2, 1851, and was absent eighteen months.
In 1857 he bought a fine plantation in Rutherford County, and moved there, but returned to Nashville in 1859 with his son-in-law and daughter, Mr. and Mrs. Emmet Eakin, and lived with them for a year, when they removed to Saline County, Missouri, near Marshall.
In 1860 he again removed to Murfreesborough to live with his son, Josiah W. Ewing, intending to practice law no more.
After the Civil War he was appointed president of the University of Nashville.
He died in Murfreesboro, Tenn., April 24, 1902; interment in Murfreesboro City Cemetery.
The Ewing home on Highland Ave --->
The following article appeared in the Murfreesboro Post on Sunday 14 March 2010. It was written by Mike West, Post Managing Editor.
Judge Edwin Ewing, a forgotten political powerhouse
Following the Civil war, Edwin Ewing lived in Murfreesboro with one of his daughters on North Highland Drive.
Built in 1856 by Dr. Ford Norfleet, the home was a two-story brick and one of the finest of its time. Norfleet never lived in the home, which was sold to E.L. Jordan who was married to Norfleet's sister. The house was featured in the 1942 book, "Heartstones" by Mary B. Hughes and was described as the Ewing-McElroy House.
Despite the war, Ewing remained politically prominent to the point where the New York Times wrote an editorial questioning his request for amnesty in the post-war days. "The Union between the North and the South was at an end forever and he had no hope of its restoration," the editorial quoted Ewing as saying.
"He regarded this as a war of subjugation, and would never consent to such a domination as was attempted to be established over us. We see it now stated that this same EDWIN H. EWING has expressed his readiness to accept amnesty on the conditions of the President's Proclamation, and freely urges the same step upon his friends," the Times said.
But Ewing received amnesty and continued his law practice. After the war, Ewing's son, Josiah and his wife, moved into the house, which was purchased by Ewing's father. Judge Ewing moved into the house as well.
The home became known for its parties and elaborate flower garden, which featured beds of lilies and roses, bordered by violets. The garden's paths radiated to a honey-sucked covered summerhouse to the left of the two-story brick structure.
Judge Ewing would take evening promenades on the long second-story balcony at the rear of the house, which was built traditionally with four bedrooms on the second floor and the parlor, dining and other "public rooms" on the ground floor.
While the Ewings occupied the dwelling, it was the scene of four lavish weddings. Following the death of Judge Ewing (in 1902) and his son, the home was sold to Professor W.M. Mooney, who attempted to establish a boys' school there. When the school failed, the property reverted to Mrs. Ewing's control. She ultimately sold it to Mrs. George D. Nelson, who established a home for handicapped children there.
Later the home was sold to Mr. and Mrs. Frank H. McElroy, who continued to operate a school there. Ultimately, the land was purchased by Middle Tennessee Medical Center and the house was demolished, making way for MTMC's Bell Street Center.
As for Judge Ewing, he was laid to rest in the Murfreesboro City Cemetery on Vine Street, where he remains an almost forgotten figure in Tennessee's history.
Sketches of Prominent Tennesseans
by William S. Speer
HON. EDWIN HICKMAN EWING.
MURFREESBOROUGH
No name in Tennessee shines with a more steady radiance han that of the Ewing family. It is one of the immovable jewels of the State, and is connected with its congressional, legislative, judicial, legal, medical, literary and banking history, and dates back to 1780. There is not a stain upon its escutcheon. No member of it has been marked or spotted as addicted to gaming, drunkenness, dissoluteness, nor by the wiles and trickery of the demagogue. The heroic vices never attached to the family. They are society people, distinguished for their culture, refinement and high sense of honor, and are brave without vainglory, proud without being haughty, affluent without arrogance, and prominent without being pretentious.
The oldest living and probably the best representative of the family is the subject of this sketch, Hon. Edwin Hickman Ewing. He was born in Davidson County, Tennessee, December 2. 1809, and there grew up, attending the schools of the city, and graduating in October, I 1827, from the University of Nashville, under the celebrated Dr. Philip Lindsley, in a class of twelve, among whom were Gen. Gideon J. Pillow, Hon. David W. Dickinson, for several years M.C., Hon. Ebenezer J. Shields, M.C. from Giles County, G. W. Foster, Thomas Foster, and Dr. Patrick D. Nelson, of Rutherford County.
From the age of fifteen young Ewing determined to be the best lawyer, and in school and at college studied with that end in view. After graduation he obtained license to practice, January, 1831, from Supreme Judge John Catron and Circuit Judge James Stewart, and thenceforward practiced regularly in the County, Circuit, Chancery and Supreme courts. He was in the Supreme Court as early as 1833. He practiced at Nashville without any break from 1831 to 1851, except the time he was in Congress and the Legislature, to be mentioned hereafter. In 1837 he took his brother, Hon. Andrew Ewing, into partnership, which continued until 1851.
In 1840 he canvassed the counties around Nashville in favor of the election of Gen. William Henry Harrison to the presidency, during which he got into divers difficulties with Democratic politicians and editors, Judge Ewing's prominence and ability as a speaker making him a standing target for the shots of the Democratic leaders.
In 1842 he was a member of the Tennessee Legislature from Davidson County, elected as a Whig, without opposition. When that General Assembly organized he was made chairman of the committee on federal relations.
In the latter part of 1845 he became the successor of Dr. J. H. Peyton, brother of Hon. Bailey Peyton, who had been elected to represent Davidson, Sumner, Smith and Macon counties in the United States Congress. Judge Ewing was elected in opposition to Gov. Trousdale. He took his seat in January, 1846, after the committees had been formed. In Congress he made a number of speeches on the tariff, the Oregon question, the Mexican war, and the river and harbor bill, which were published and at once gave him a reputation which was an honor to himself and a credit to his State. Hon. Alexander Stephens, then in Congress, said of his speech on the tariff, it was the best he had ever heard on that subject.
Declining a re-election, he returned to his law practice, which he continued with his brother until April, 1851, when, his health failing from his large and laborious law business, he took a trip to Europe, starting April 2, 1851, and being absent eighteen months. He visited England, Scotland, Ireland, France, Germany, Italy and Switzerland, traveling in the latter country six hundred miles on foot, meanwhile recovering his health. He then went to Egypt and up the Nile as far as Assouan, at the cataracts, inspecting the pyramids, the temples and other noted ruins; and, then making a detour to Suez, went down the Gulf of Suez to Mt. Sinai, which he ascended; thence by the Gulf of Akabah visited Petra; thence to Hebron, on the borders of Palestine, and the home of the patriarch Abraham, whose tomb he visited. He then went to Jerusalem; to the river Jordan, and bathed in it; then to Bethlehem, to the Dead Sea, and then north to Damascus—the oldest of cities; saw the rivers Abana and Pharphar, and ascended to the headwaters of the famous stream. On the route from Damascus to Beirout, he took in Baalbec and measured a corner-stone in its walls-66318x12. From Beirout he went to Smyrna, thence to Constantinople, Trieste, Paris, London and home. These travels in the East made Judge Ewing, who is always an entertaining conversationalist, much sought after by those interested in oriental places of historical interest.
Not long after his arrival at Nashville, he was called upon to pronounce a eulogy on Daniel Webster. This address, delivered in 1852, gave him more fame as a writer and orator than any other of his numerous addresses and papers, on all manner of subjects, published sometimes over his own name; sometimes under a nom de plume.
Judge Ewing continued to practice law, in a perfunctory way, only in important cases, until 1857, at which time he was worth upwards of one hundred thousand dollars. In 1857 he bought a fine plantation in Rutherford County, and moved there, but returned to Nashville in 1859 with his son-in-law and daughter, Mr. and Mrs. Emmet Eakin, and lived with them for a year, when they removed to Saline County, Missouri, near Marshall. In 1860 he again removed to Murfreesborough to live with his son, Josiah W. Ewing, intending to practice law no more.
The war came on and his sons, Josiah and Orville, both went into the Confederate service, and Judge Ewing remained on his son's place, three miles from Murfreesborough. During the war Judge Ewing was under surveillance of the Federal troops on account of his sympathy for the South, though up to the war he had been a Union man, but heartily with the South after Federal invasion begun.
After the war he continued to live with his son until January 1, 1866, when he resumed the practice of law at Murfreesborough, in partnership with Hon. E. D. Hancock. This partnership was dissolved in 1869, after which Judge Ewing appeared in cases mostly at Nashville—bank and railroad cases—meanwhile frequently contributing articles to the press on metaphysics, religion, and politics. He wrote what may be called the basis of the speeches and writings that have since been made on the State debt question, Judge Ewing taking the ground that the State is liable for the whole debt, but that the creditors should allow a large deduction as an equity.
In 1880 he was appointed Judge of the Supreme Court of Tennessee, vice Judge Cooper, disqualified on account of his having, as chancellor, decided many of the cases taken by appeal from Davidson County. He afterwards took the place of Judge Peter Turney, absent on account of rheumatism and the old wound he received during the war. In 1881-2, by request of the other members of the court, Gov. Hawkins appointed Judge Ewing special judge in place of Judge Cooper, incapacitated on account of being the owner of State bonds, to sit, in what has since become the "one hundred and three case." Judge Ewing delivered the opinion advancing the case on the docket, and afterwards, in the final disposition of the case, three of the judges, Freeman, McFarland and Turney, enjoined the issuance of new bonds by the funding board. Judge Ewing wrote and delivered the dissenting opinion, which the lawyers speak of as his monument. This opinion was the most labored effort of Judge Ewing's life. [See Lea's Supreme Court Reports, 1881-21. For the past three or four years Judge Ewing has been receiving no fees, practicing merely to wind up his old cases, only a few of which now remain.
Judge Ewing married at Nashville, in 1832, Miss Rebecca Williams, a native of Davidson County, daughter of Josiah Williams (at one time Sheriff of Davidson County), a large farmer on the splendid tract since known as Maplewood." Her grandfather died in North Carolina. His oldest son, William Williams, was at one time a member of the Legislature from Davidson County. The Williams family came from North Carolina, and were quite prominent people in Davidson County. They are of Welsh extraction. Mrs. Ewing's mother was a daughter of Joseph Phillips, a respectable magistrate of Davidson County. Mrs. Ewing's cousin, Mrs. John Felix Demoville, of Nashville, is a grand-daughter of Joseph Phillips, as is also Mrs. James C. Warner, a sister of Mrs. Ewing. Judge Ewing and his two brothers, Andrew and Orville, married three sisters, daughters of Josiah Williams.
Comments by Larry Feldhaus: Josiah Williams was never Sheriff of Davidson County. The author appears to confuse him with Willoughby Williams who lived down Gallatin Road from Josiah and served as Sheriff of Davidson County around 1830.
Rebecca Williams Ewing's grandfather on the Williams side died in Nashville TN. Her grandfather on the Philips side died on Swift Creek outside of Tarboro NC.
Notice that Philips is spelled with one "L" and not two "L"s as written above.
The Williams moved from Virginia to Scotland Neck NC where they lived with a large group of Scottish emigrants prior to moving to Louisburg NC and eventually to Nashville TN. I am not certain of their nationality prior to emigrating to the U.S., but I have assumed they were Scottish. My grandmother always said they were Scotch-Irish.
Judge Robert Ewing, of Nashville, member of the board of public works and affairs (facetiously called the 'big three"), is a son of Andrew Ewing, and a nephew of Judge Ewing, subject of this sketch. His niece, Rebecca, daughter of Andrew Ewing, is the wife of Henry Watterson, the famous editor of the Louisville Courier-Journal.
Of Judge Ewing's five brothers:
(1). John 0. Ewing became a physician of much merit and prominence, but died at the age of twenty-six in the year 1826. His son, John 0., married a daughter of Alexander Campbell, the famous West Virginia preacher, and afterwards married a daughter of John M. Bass, of Nashville.
(2). Henry Ewing was clerk of the County court of Davidson, and afterwards in New York.
(3). Albert Ewing was a Christian preacher, and died at Eureka, Illinois, sixty-eight years old. He married Jane Caroline, daughter of the celebrated Alexander Campbell.
(4). Orville Ewing was president of the Planters Bank of Nashville for many years. Though bred a lawyer he never practiced.
Comments by Larry Feldhaus: Orville Ewing married Milbrey Horn Williams, daughter of Josiah Frederick Williams.
(5). Andrew Ewing was a member of Congress as a Democrat from a Whig district. He died at Atlanta, Georgia, in the Confederate service, being judge of the permanent military court of Gen. Bragg's Army of the Tennessee. He left a reputation for being one of the best common law lawyers the State ever had. He was a very eloquent speaker, and being a prominent politician was one of the Democratic leaders of Tennessee.
Comments by Larry Feldhaus: Andrew Ewing married Rowena Josey Williams, daughter of Josiah Frederick Williams.
By his marriage with Miss Williams Judge Ewing has had four children:
(1). Josiah W. Ewing, born in 1834; graduated from Bethany College, West Virginia, under President Alexander Campbell; married, in 1855, Miss Ada B. Hord, daughter of Thomas Hord, a wealthy and highly respected farmer and retired lawyer of Rutherford County. He has four children, Thomas H., Orville, Emmet and Josie.
(2). Jane Caroline Ewing, born in 1836; graduated from the Nashville Female Academy; married Emmet Eakin, who died during the war, and by him had four children, Rowena, Florence, Sallie (Lovie) and Arthur D. The latter died at Memphis, at the age of twenty, a professor in the medical college of that city. After the war Mrs. Eakin became the wife of Dr. James E. Wendell, of Murfreesborough, and bore him one child, a daughter, Jane, who died at the age of twelve. The mother died in 1872, aged thirty-five.
(3), Florence Ewing, educated at Nashville and married, first, Andrew Fletcher, by whom she had two children, Edwin, and one who died in infancy. After Mr. Fletcher's death she married Dan P. Perkins, of a prominent Williamson County family, and by this marriage has two children, Rebecca and Sarah Lou.
(4). Orville Ewing, who went into the Confederate army in Col. Joel A. Battle's Twentieth Tennessee regiment as sargeantmajor, and was badly wounded and taken prisoner at the battle of Mill Springs. He was killed in the battle of Murfreesborough, Wednesday, December 31, 1862, the very day he was appointed to a position on the staff of Gen. William Preston.
Judge Ewing has one great-grandchild, Ethel Reed, daughter of Florence Reed, who is the daughter of Jane Caroline Eakin and wife of James H. Reed, a hardware merchant at Murfreesborough.
Judge Ewing's father, Nathan Ewing, was clerk of the County court of Davidson County, a man who sustained a character of exceeding honesty, diligence and attention to business. He was the son of Andrew Ewing, who came from Rockbridge County, Virginia, to Tennessee, in 1780, and was the first clerk of the County court of Davidson County, which, with Sumner County, then embraced nearly all of Middle Tennessee. Judge Ewing's father was born in Virginia in 1776.
The Ewings are of Scotch-Irish, deep-dyed, Presbyterian origin.
Judge Ewing's mother, whose maiden name was Sarah Hill, was a daughter of Daniel Hill, a fanner, a native of North Carolina, who came to Tennessee, when she was nine years old. Lieut.-Gen. D. H. Hill, one of Gen. Lee's most distinguished corps commanders, belongs to the same family. Mrs. Ewing's mother was a Hickman, of North Carolina. Hickman County, Tennessee, was named for the brother of Judge Ewing's maternal grandmother, and for him Judge Ewing, himself, was named Edwin Hickman. He was prominent as an Indian fighter, was a surveyor and pioneer settler in Tennessee. He was killed in camp at night by the Indians.
Judge Ewing's mother died in 1855, at the age of seventy-five, a model woman, of fine sense, of extensive reading, a well-balanced mind and fascinating conversational talents, fond of poetry and of quoting the standard poets. She, too, was of Scotch-Irish origin, but in her religious faith a staunch " Campbellite."
She had six sons who grew to manhood, and made some figure in life, and there has never been a vice of gaming, drunkenness or dissoluteness attached to their names. Her last child was a daughter, Sarah, who died four years old.
Judge Ewing belongs to no secret society, and to no church, and never had any partnership or formed any association except with lawyers. In religion, he is an agnostic—denying nothing, affirming nothing, as his writings clearly show. Yet he is a man of broad Catholicism and liberality of opinion. He is one of the most successful lawyers in Tennessee, and has always been considered a wealthy man. When asked for the methods by which he had succeeded, he replied, " I can't say that I had any method. I lived from day to day and from hand to mouth. In that regard I am like the knife grinder, I have no story to tell."
For an estimate of Judge Ewing's character, the writer sought an interview with Judge W. H. Williamson, of Lebanon, and Hon. James D. Richardson, of Murfreesborough, and from their informal conversation, gathered the following:
Judge Ewing is not what is called a social man except with his intimate friends and men of the profession. Yet he is very kind-hearted and sympathetic. He and his brother, Andrew, were always popular but without demagogy. Andrew was a fine popular speaker, persuasive and earnest, and the best jury lawyer Tennessee ever had. It is said their mother never went to rest at night until every one of her sons were up stairs in bed; and she made men of them all, strong men who are as so many monuments to her motherly care, and as so many jewels to the State.
There is not a man of the Ewing name, all the way back and all the way down, but is of unblemished character. Judge Ewing has long been considered the Nestor of the Tennessee bar. In ability, wisdom, profound learning in the law, and fine belles-lettres scholarship, there is no lawyer in Tennessee that ranks him. He is a hard-working, energetic, brilliant lawyer; an untiring investigator, leaving nothing unturned, working because he loves to work. His style of oratory is earnest, sometimes vehement.
Gen. Joseph B. Palmer, of Murfreesborough, when asked for an estimate of Judge Ewing's character, replied: "Mr. Ewing is a profound and critical scholar, to which he has made the addition of a most extensive and careful course of general reading. Very few business men have read so much. He has frequently filled a place on the Supreme bench for long spaces of time, under special appointments, and his written opinions, published in the reports of the last thirty years, mark him a genius and the possessor of deep learning, of which the most distinguished of lawyers might feel a just and honorable pride. To the younger members of the profession wherever he has lived, he has always been of incalculable advantage, ready to advise and instruct and aid them in the solution of embarrassing difficulties, which often greatly depress young men. This he was enabled to do, owing to his great readiness with the best authorities on almost any legal proposition that might be sprung. In addition to this, his own elevated example and conduct in his profession has been a constant stimulus to every young man who had any ambition to excel in the law. In his profession Judge Ewing has always charged good fees, uniformly, but not extravagantly, nor extortionately by any means, and while he has taken reasonable compensation for his services, his object has been usefulness to others rather than pecuniary profit to himself. He is a very fine business man, giving close attention to all matters entrusted to his care, as well as to his own personal dealings with all men. In his feelings and intercourse with men of whatever creed, he is liberal, catholic and charitable. Taken all in all, he is an honor to his race and a blessing to his country."