Elisha Williams

Born 17 Aug 1823 at Maplewood on Gallatin Road five miles north of Nashville, Davidson County, TN. Died 26 March 1899 at this home in Henderson Co. KY

Graduated from the University of Nashville in 1844.

Married Sarah A. Finley 3 Nov 1845

Born 15 Nov 1823 in Lebanon in Wilson County TN.

Died 5 Jul 1888 in Spottsville, Hendersonville, KY
Found on newspaper.comNewspapers.com

Josiah Frederick Williams bought land in Mississippi County Arkansas between Osceola and Blytheville and several of the young men went there to try their hand at farming this Mississippi delta land. However, life was hard and only two stayed, James Horn and John Wharton, cousins.
James Horn Williams married Mary Elizabeth Finley (15 Sep 1818-abt 1857) 6 April 1847 in Wilson County TN. They moved to Elmot, Mississippi County, AR.
James brother Elisha Williams married Mary Elizabeth's sister, Sarah A. Finley (15 Nov 1823-5 Jul 1888) in 1845 in Wilson County TN and they also moved to Elmot and lived near James and Mary Elizabeth.
When Mary Elizabeth died about 1857, Elisha and Sarah left Arkansas and moved to Henderson County KY where they lived until they died.
James and Elisha's brother, Joseph Philips Williams, married, Sarah Ann Magdalene Pennington, on 20 Nov 1838 in Davidson County TN. Joseph and Sarah also moved to Arkansas and lived near his brothers.
Their cousin John Wharton Williams moved to Arkansas nearby after he married Sarah's sister, Martha Pennington, on 29 Jul 1852 in Nashville, TN. She was born 25 Sep 1825 and died in 1857 in Luxora, Mississippi, AL.
After Martha died, Joseph and Sarah Ann left Arkansas and moved to Clarksville TN where they lived until they died.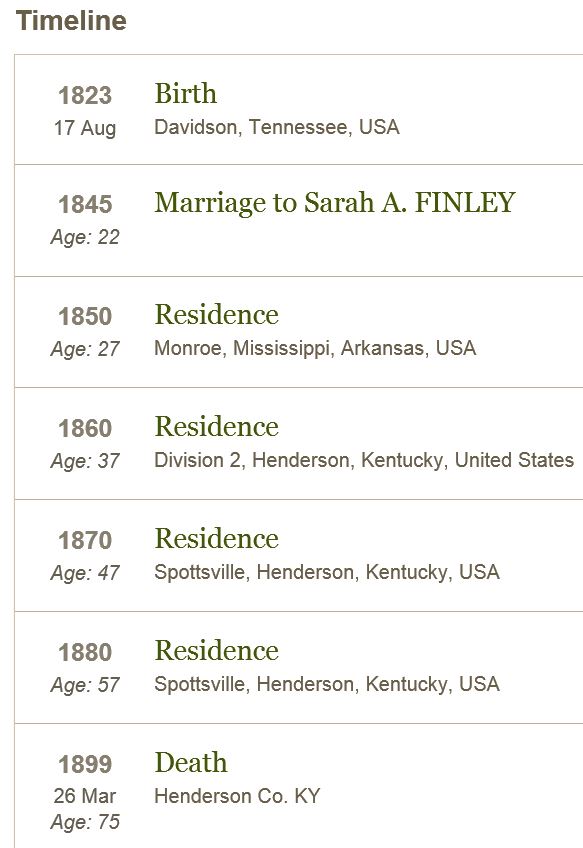 | | |
| --- | --- |
| | |
Obit: Elisha Williams of Henderson KY, brother of Henry Williams of Gurthrie KY, died last Saturday. He was about 75 years of age and had for a long time been a prominent citizen of his town and county. Mrs. N. V. Boddie and Miss Gretta Williams of Guthrie, nieces of the decedent, went to Henderson to attend the funeral. Glen's Graphic, Guthrie KY, March, 1899.