The obituaries below are for Maggie Williams Hale who was a daughter of James Horn Williams by his third wife, Mary Dunkle. The obituary says she was the daughter of the late J. W. Williams, but this is a mistake since it goes on to say she was survived by two nephews, Raymond and Vance Cartwright who were the sons of Sallie Williams Cartwright, the first child of James H. Williams. Maggie lived her entire life in Luxora and Osceola, AR near where she was born. She was preceded in death by her husband, F. B. Hale.
Maggie Williams (who I previously thought was James and Nelle Heath"s child #4) was born in 1874 and was 5 years old at the time of the 1880 census. James' wife Mary Dunckle likely died in her childbirth or shortly thereafter as James married again for the last time in 1882.

The book "Biographical and Historical Memoirs of Northeast Arkansas" states that Mary Dunkle only lived three years after she and James were married. Marriage records in Missouri indicate they married 10 Oct 1871.

Mary Duncle doesn't show up in the 1880 census, she apparently was dead before the 1880 census and Maggie was being taken care of by James Williams oldest daughter Sallie nearby.
Maggie is listed in the N. G. and Sallie Cartright home in the 1880 census.
Maggie shows up living with her half sister Sarah "Salie" and her husband, Noah Grandy Cartwright, and family in the 1900 census after James H. Williams died and also in later census records.
Survivors included two nephews, Raymond and Vance Cartwright for whom she made a home during her later life. They were the sons of Sarah "Sallie" Williams Cartwright whose obituary appears below at the bottom of this web page.
My grandfather, Bernie Holthouse, was a palbarer at the funeral.
| | |
| --- | --- |
| | |
Maggie Williams obituary above on the right indicates she graduated from Galloway College in Searcy AR. Below is information about this college.
Galloway Women's College

AKA: Galloway Female College
Galloway Women's College in Searcy (White County) was one of the longest survivors from among the schools established in the 1800s by the Methodist Episcopal Church, South, in Arkansas. Dedicated in honor of Bishop Charles Betts Galloway on April 18, 1889, the school endured until its final merger with Hendrix College in Conway (Faulkner County) in 1933.

Methodist Church leaders realized by the latter part of the nineteenth century that their resources could not support the numerous small schools they had established around the state and decided to concentrate efforts on fewer institutions to provide better facilities and sounder education. Under the leadership of Bishop Galloway, leaders decided to focus on one institution primarily for men and Galloway Female College, as it was then known, as the counterpart for women. Searcy won bidding rights for location of the women's school through pledges of $25,000.

Galloway Female College had problems from the beginning. Its first president, Robert W. Erwin, died less than two months before the scheduled beginning of classes. The national Panic of 1893 led to a failure in 1896 of a planned bond issue to finance buildings and equipment. A fire in 1898 completely destroyed the school's impressive four-story building. In spite of handicaps, the school grew rapidly. Within five years, students, most of whom were from Arkansas, had to be turned away for lack of housing. In 1925–26, enrollment reached a high of 269.

In common with most other schools of the day, Galloway's curriculum was designed to cover a wide range of educational attainments from primary to secondary levels. Traditional curriculum included homemaking and secretarial training. The school was particularly strong in music, art, and speech. At the end of the 1800s, more occupational and professional courses were offered. By 1908, kindergarten and primary levels were discontinued. Frequent well-attended concerts, recitals, and exhibitions of student and faculty work sponsored through highly competitive literary societies bolstered social life.

During the first decade of the twentieth century, with money scarce, Methodists proposed unifying Hendrix College and Henderson College (later Henderson-Brown College), a co-educational college in Arkadelphia (Clark County), with Galloway under one administration, making Henderson and Galloway two-year schools. The plan, vigorously fought by both Henderson and Galloway, was instituted a few years later. Galloway operated under a deficit for several years, and enrollment fell to seventy-five in 1932–33. The decline sounded the death knell for Galloway. The school was closed following its final commencement in June 1933, at which time nineteen diplomas were awarded, and the operations were merged with Hendrix College. A year later, the property was sold to Harding College (now Harding University) for a fraction of its estimated value.

Four presidents led the college after its opening: Sidney H. Babcock (1889–1892), John Hixon Dye (1892–1897), Charles Conway Godden (1897–1907), and Dr. John Milton Williams (1907–1933). During Williams's tenure, the college became known as Galloway Women's College. Galloway alumni, known for their fierce loyalty to the school, held reunions in Searcy or Little Rock (Pulaski County) for forty-eight years until their last reunion in 1981, which took place at Galloway Hall women's dormitory on the campus of Hendrix College.

For additional information:
Britton, Nancy. Two Centuries of Methodism in Arkansas, 1800–2000. Little Rock: August House, 2000.

Galloway College Collection. Butler Center for Arkansas Studies. Central Arkansas Library System, Little Rock, Arkansas.
Franklin Bird Hale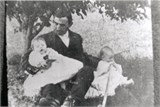 Bibliography
Biographical and Historical Memoirs of Eastern Arkansas.
Chicago Goodspeed Publishers
1890.
Franklin Bird Hale, another prominent farmer of Osceola, whose time thus far has been spent in furthering the agricultural interests of the county, is a native of Maury County, Tenn., born January 1, 1851, and is the tenth in a family of eleven children born to Bird S. and Martha Ann (Dyer) Hale [see sketch of J. K. P. Hale].
Franklin Bird Hale's experiences have been in the direction of agricultural pursuits, and in this calling he has met with the results due a lifetime of active energy. He began for himself at the age of nine teen, by renting land, and after one crop moved to Pope County, where he remained nearly a year. There he met and married Miss Mary M. Wells, a native of this State. Her father came to Arkansas about 1855, where he accumulated considerable property, but lost most of it during the war. He died about June, 1874.
Mr. Hale then returned to Osceola, where he clerked for his brother, W. P. Hale, in a general store, for three years, after which he engaged in a general store for himself, continuing this about one year. In connection with his brother, W. P., he bought a tract of land known as the Witherspoon farm, consisting of 1,200 acres, 190 acres of which were cleared.
They have since opened 400 acres of this. In the year 1884 Mr. Hale sold his interest to his brother for $10,000, and then bought a tract of eighty acres adjoining the town, and me town lots. This tract is under cultivation.
Mr. Hale has purchased [p.508] a fine residence in town, and has now one of the most pleasant places in Osceola. He has also bought a tract of forty acres, one-half of which is under cultivation, and in 1880 he bought another forty-acres tract, all under cultivation. He has also one-fourth interest in eighty acres of wild land.
He is a member of the Osceola Blue Lodge No.27; is a member of Osceola Chapter No. 57, and also of the Hugh DePayen Commandery No. 1, K. T., at Little Rock. He is Past Master of the Blue Lodge, and is Principal Sojourner in the Chapter. He has served as school director for a number of years.
To the marriage of Mr. and Mrs. Hale were born eight children (four now living): James L. (attending school at Altus, Ark.), Charles Franklin (deceased), Elizabeth Pearl (deceased), Emma Wells (died in May, 1888), Grace (died in March, 1882), Willie P., Pearl and Charles.
The family are members of the Baptist Church. Mr. Hale is active in all matters that promise to contribute to the good of this section. He is improving the grade of his stock; has some fine breeding animals, horses and cattle, and has quite a number of thoroughbred Chester bogs.
The beautiful residence and lawn of Mr. Hale are ornaments to the town, and the fine farm, under a high state of cultivation, is only another example of the enterprise of this prominent family.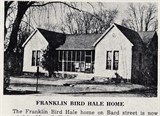 Fred B. Hale was married to Mary M. Wells in 1901 when he wrote the below will. They had eight children and Fred's will called for all of his estate to be divided between his wife and seven of the eight children, the oldest not needing any additional money.
However, Mary died and in 1924 Fred married Maggie Williams in 1917. In 1924 Fred wrote a codicil to his will accounting for the death of his wife and one of his daughters, still dividing his estate among the remaining children, with no mention of his wife of seven years, Maggie Williams. In 1926 Fred died and the will and codicil were filed and Maggie got nothing.
It's possible that Maggie was provided for by her father, James Williams, when he died in 1893. She was his last child. I have not seen James' will, so don't know if he provided for her or not.
However, it does seem strange that Fred did not provide for her after his death.
Maggie lived until 1950. When she died, she left the below will which divided her estate between friends and family. She had $12,000 in Bonds in her lock box which would be worth about $120,000 today.
The obituary at the left is for Sallie Williams Cartwright who was a daughter of James Harm Williams by his first wife, Mary E. Finley. She was born in Nashville TN and moved to Arkansas as a small child. Shortly after, her mother died and James married Julliet Mairan Nellie Heath.

Her husband, N. G. Cartwright was a confederate soldier from Elizabeth Cith NC. At the time of her death, he owned a hardware and saddlery business in Osceola AR which he operated with his sons.

She was the mother of ten children, two daughters and eight sons. She was survived by Vance, Finley and Raymond.

This obituary says she was survived by two sisters, Mrs. F. B. Hale of Osceola, and Mrs. Lena Bowen of Memphis as well as by a brother, Henry Williams of Birmingham AL.