John Dunn was the owner of Dunn Exchange on Palafox Street close to the wharf in Pensacola FL. As far as I have been able to ascertain, he is not related to Edward Thomas Dunn.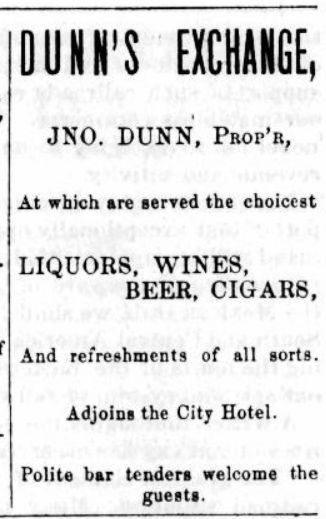 <
Dunn's Exchange was located next door to the City Hotel, according to the book "Historical Sketch of Pensacola Florida, Embracing a Brief Retrospect of the Past and a View of the Present", published in 1882. The below ad appears in the book. John Dunn is shown as the proprietor in the below ad.
Click on any of the icons below to see and read about the devastation the fire caused.

A fire that erupted in the early morning of December 11, 1880 destroyed five blocks of downtown Pensacola, including several government buildings and "nine-tenths" of the city's business district.
The fire originated from Simon Damiani's confectionary shop, whose inhabitants barely escaped the blaze. Mrs. Damiani later died from her burn wounds.
The fire spread quickly by a brisk wind, sweeping down Palafox from Romana to Government Streets. Reaction to the fire was slow, as the only steam-powered fire engine in town was at a machinist's shop being repaired, but eventually citizens formed a bucket brigade. The fire was stopped at the City Hotel near Tarragona Street to the east, and behind the Customs House to the west.
Damages were estimated between $500,000 to over $1 million. Two lives were lost.[1] Over 100 buildings and businesses were razed by the fire.
<