My name is Lawrence Bernard Feldhaus, Jr. I go by the name Larry Feldhaus. My parents spent most of their lives in Lawrenceburg Tennessee, but their ancestors came to this country from Germany, Scotland, and elsewhere. Now they are both deceased and their children are scattered around the country. Below are pictures of my parents' parents, none of whom were born in Lawrenceburg, but all of whom died there after spending most of their life in the community.
I've also included pictures of my grandparent's ancestors that I have in my possession. As you can see, I don't have pictures of many of their ancestors and would appreciate receiving pictures of any of them.
Click on any of the pictures on this page on in any of my web sites to view a larger picture in a new window.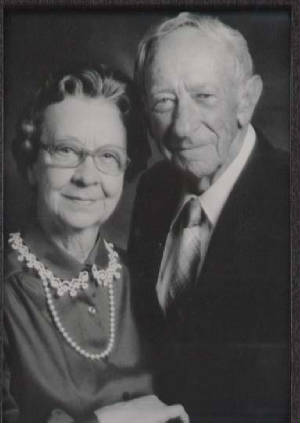 Lawrence Feldhaus and Margaret Feldhaus (Nee Holthouse)
My Father's Father

Henry Bernard Feldhaus, Jr.
B: 8 June 1850

Munster, Germany

D: 20 April 1931

Lawernceburg, TN

My Father's Mother

Mary Ann Schneider Feldhaus

B: 1 January 1865

Goshen, IN

D: 24 September 1934

Lawrenceburg, TN

My Mother's Father, Pop,

Bernard Godfrey Holthouse

B: 8 March 1891

Decatur, IN

D: 21 Feb 1972

Lawrenceburg, TN

My Mother's Mother, Mama Nelle,

Nelle Francis Williams Holthouse


B: 29 October 1891

Jonesboro, AR

D: 10 October 1973

Lawrenceburg, TN

Click to go to the Feldhaus family web site.

Click to go to the Feldhaus Family of Lawrenceburg TN eBook and read about the family and their relatives and ancestors.

Click to go to the Mary Ann Schneider family web site.

Mary Ann's father

George A. Schneider

Bn: January 1838 in Hessen Germany

Died: 9 April 1912 in Techny, Northbrook, Cook County, IL

Buried: Lawrenceburg, Lawrence County, TN

Pop with his Father and Mother

Anthony Bernard Holthouse

B: 10 April 1844, Decatur IN

D: 31 Dec 1906, Jonesboro AR

Margaret Schoen

B: 24 August 1868, Decatur IN

D: 11 Sep 1919, Jonesboro AR

Mama Nelle with her Parents

Edward Heath Williams


B: 23 April 1859, Osceola AR

D: 15 Nov 1901, Jonesboro AR

Maude Dunn

B: 2 Nov 1865, Quebec Canada

D: 29 June 1918, Muncie IN

 
 

Click to go to the Mama Nelle and Pop web site that covers the immediate family of my Mother's parents.

Click to go to the web site of the Holthouse family, the ancestors of my Mother's Father.

Maude Dunn Willams' Father

Capt. Edward Thomas Dunn

B: 14 May 1840, St. Albins VT

D: 22 Dec 1904, Pensacola FL

 
 
 

Ed Williams' parents

James Horn Williams

B: 15 Jan 1826, Nashville TN

D: 12 Jan 1893, Luxora AR

Juliette Marion "Nellie" Heath

B: 18 Jan 1832, Gailesville NY

D: 22 April 1869, Osceola AR

 
 
 

James H. Williams parents

Josiah Frederick Williams

B: 2 Feb 1780, Scotland Neck NC

D: 29 Nov 1851, Nashville TN

Margaret "Peggy" Thomas Philips

B: 30 Sep 1799, Nashville TN

D: 14 April 1844, Nashville TN

 
 
 

Click to go to the Williams Family web site, the ancestors of my Mother's Mother.

Click to go to the Philips Family web site, the family of the wife of Josiah Frederick Williams who was the great-grandfather of my Mother's Mother.

Click to go to the Hartwell Philips Family web site, the brother of Joseph Philips, Sr. who was the great-great-great-grandfather of my Mother's Mother.

Click to go to the Philips of Early Virginia web site to learn about the early history of my Philips ancestors.

Click to go to the Horn family web site. Milbry Horn was the wife of Joseph Philips.

Some families know a great deal about their roots; others know very little. This site is an attempt to record what I've learned about our family history. In these modern times, families tend to be scattered all over the country, if not the world. One of the goals of this web site is to help our family stay connected even though we live far apart.

I have created several separate web sites to make it easier for those who may be interested in a family group, but not in another part of the family.

I started collecting this information in October of 2006 in response to a request from my brother's daughter, Pam Smith, for information about the family.

Most of this information was obtained from talking to living relatives, reviewing my files, and from researching public records. In the course of doing this research, I've discovered that I have many more relatives than I ever thought possible!

This is a work in progress, so please contact me if you have any information that might help round out the picture.

Acknowledgments

I've had lots of help putting together the information on these web pages and have tried to give credit to the persons supplying the information. If I have failed to give credit I apologize. I know how hard many have worked to gather the information contained on these web pages.

The picture above is me shortly after retirement. Click on the button below to view my brother's memorial web site. He was a Navy pilot and was shot down and killed in North Vietnam in 1966.